Sri Venkateswara Dental College Bds Admissions 2020
 Sri Venkateswara Dental College Bds Admissions 2020 Started From Jan 2016.Intrested Students Can Book Seats In Advance.Sri Venkateswara Dental College Bds Fees Structure 2020 Call 09700019482. Sri Venkateswara Dental College and Hospital has been established by an Educational and Charitable Trust – Vel's Institute of Science, Technology and Advanced Studies in 2007. Vel's Group of Institutions was established in 1992 and development.  was founded by Dr.Ishari K.Ganesh, M.Com., B.L., Ph.D.,a visionary and an eminent educationist, in fond memory of his father Shri. Isari Velan, the Former Deputy Minister in the popular Government of Dr. MGR.
The 15 year old Vel's Group, having gained rich experience in managing many paramedical institutions namely Vel's College of Pharmacy (1992); Vel's College of Physiotherapy (1993); Venkateswara Nursing College (2006) and Vel's School of Nursing (2007), has extended its sphere of activity by starting Dental Science Programme.
 Sri Venkateswara Dental College Courses Offered:
BDS
Sri Venkateswara Dental College Bds Admissions 2020 Details SVDCH Chennai:
The student should have completed 17 years as on 31st December of the year of admission.
 Sri Venkateswara Dental College Bds Admissions 2020 Eligibility: The student should have passed Higher Secondary Examination conducted by the Government of Tamil Nadu or any other equivalent examination with Physics, Chemistry and Biology as main subjects.
Students belonging to category other than SC / ST, should have obtained 50 percent and above marks in aggregate in Physics, Chemistry and Biology (Botany / Zoology)
Students belonging to SC / ST category should have obtained 40 percent marks in the above mentioned subjects.
 Sri Venkateswara Dental College  Fee Structure:
The tuition fee payable will be intimated at the time of the admission.
Entire fee is payable in advance for each year.
Fee should be paid either in cash or Demand Draft at the college office.
Delay in payment of term fee will invite a fine of Rs. 500/- per week beyond due date.
The management reserves the right to modify the fee structure without prior notification.
Students who do not remit fees by due date will not be permitted to attend classes or to stay at the hostel.
Infrastructure for SVDCH:
Library
Laboratories
Internet Facility
Hostel
Health and Fitness
Conference Halls
Bank and ATM
Transportation
Sports
Sri Venkateswara Dental College Contact details:
Address: Off Old Mahabalipuram Road Near Navalur Thalambur
Chennai
Tamil Nadu
600 130
Email:info@svdentalcollege.com
 SRI VENKATESWARA DENTAL COLLEGE BDS ADMISSIONS 2020
TOP DENTAL COLLEGE IN CHENNAI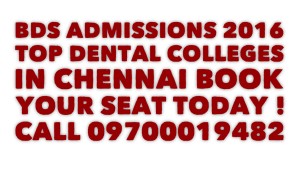 WE PROVIDE CAREER COUNSELING, ADMISSION GUIDANCE AND DIRECT ADMISSION IN ALL INDIAN UNIVERSITY ADMISSIONS IN ANY BRANCH, ESPECIALLY WE PROVIDE THE MOST APPROPRIATE GUIDANCE REGARDING VERY BEST PRIVATE UNAIDED MEDICAL, ENGINEERING , BDS COLLEGES IN RECOGNIZED UNIVERSITIES.
PLEASE CONTACT US AND FEEL FREE TO TAKE OUR CONSULTATION.
BOOK YOUR SEAT IN ADVANCE AT VERY MODEST AND GENUINE RATE. FOR ADMISSION PROCEDURE & FEE STRUCTURE CONTACT US ASAP.
ALL BOOKINGS ARE BASED ON FIRST COME FIRST SERVE BASIS.
LOWEST CAPITATION ASSURED
BDS ADMISSIONS IN CHENNAI 2020 REGISTER NOW !
Admission Procedure, Fees Structure, Eligibility, Application Process
CONTACT 09700019482
LEAVE YOUR QUESTIONS RELATED TO ADMISSION PROCEDURE , APPLICATION , ELIGIBILITY , INFRASTRUCTURE , CUT OFF WE WILL GET BACK TO YOU AS SOON AS POSSIBLE ..