SRI VENKATESWARA COLLEGE OF ENGINEERING ADMISSION 2020
Established Year:1985
About Us:
Sri Venkateswara College of Engineering (SVCE), Sriperumbudur was established in 1985,2020 admissions started.It is a unit of Sri Venkateswara Educational and Health Trust(SVEHT). SVCE is approved by All India Council for Technical Education (AICTE) and affiliated to Anna University. It is an ISO 9001:2008 certifies college. The college offers programs in Engineering and Technology leading to undergraduate degrees. The college aims to foster cooperation and experience sharing between faculty and industry.
Sri Venkateswara College of Engineering Admission process, Eligibility, Application Process

A major objective of this institution is to plan and implement a program of education in Engineering and Allied Sciences in order to promote research, to disseminate knowledge and to foster cooperation and exchange of ideas between the academic community and industrial organizations and to develop entrepreneurship skills among students. It strives to achieve academic excellence along with the harmonious development of personality of students.
Facilities:
SVCE has a 1,338-square-metre (14,400 sq ft) library spanning three floors covering major fields of science and engineering, a conference room, a study space and a seating capacity of over 200. Library is air-conditioned and has conferencing, multimedia, internet, reprography facilities, a CD-ROM collection and a book bank for deserving students.
The central library
The college subscribes to most major technical journals including those by the IEEE, ACM and ASME. Over 95,000 volumes and 200 CDs are available and around 400 print and online journals are subscribed.
Apart from the central library, all departments maintain their own libraries. SVCE is an institutional member of The British Council Library, IIT Madras, American Council Library, DELNET and MALIBNET. The library uses multimedia computers with internet connectivity, CBT, CDs, e-books and e-journals to promote e-learning.
New Department Information Management System (IMS) was started in year 2012.[
Sports Facilities
 Besides these socities the college encourages extra cirucular activites through a number of clubs and forums which are again supervised by members of the staff. Youth Red Cross Leo Club NCC – Army NCC – Air Wing NCC – Naval NSS Rotaract Club Tamil Mandram
Extra – Curricular Facilities
 SVCE has a well established – fully computerised library with 22186 titles covering all major fields of Science and Engineering. The library covers an area of 1338 sqm, spanning the ground floor, first floor and second floor, with conference room and an ample study space. The ground floor is Air-conditioned. The Library has the following facilities for the faculty, staff and the students: Conferencing, Multimedia, Internet, Reprography and a CD-ROM collection.A book bank for deserving candidates is also being maintained.
Ranking: AAA+
Courses Offered:
Under Graduate:B.E. Automobile Engineering

B.E. Civil Engineering

B.E. Computer Science and Engineering

B.E. Electrical and Electronics Engineering

B.E. Electronics and Communication Engineering

B.E. Marine Engineering

B.E. Mechanical Engineering

B.Tech. Bio Technology

B.Tech. Chemical Engineering

B.Tech. Information Technology
Post Graduate:M.E. Communication Systems

M.E. Computer Aided Design

M.E. Computer Science and Engineering

M.E. Power Electronics and Drives

M.E. Thermal Engineering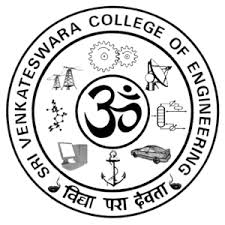 Why Join Sri Venkateswara College of Engineering
Affiliated to Anna University and approved by AICTE
MoU with various organizations and institutes for training's, summer camps, etc.
Accredited National Resource Centre of National Cyber Safety and Security Standards
Undertakes research projects sponsored by AICTE, UGC, CSIR, DRDO, etc.
Research papers by faculty published in national and international journals
Promotes entrepreneurship amongst students
Placement Cell at Sri Venkateswara College of Engineering :
The placement cell provides placement opportunities for all the students who have opted for placement. Consistently, more than 90% students are placed in multi-national and local companies, in both core and software sectors. The cell also provides awareness and counseling sessions for the benefit of the students in the areas of higher studies.
Admission Procedure:
 Admission to all undergraduate courses ie. Bachelors in Engineering (B.E.) are carried out through the single window system of the Anna University. Students can choose the courses based upon the state-wise rank calculated by their marks in Higher Secondary Examination conducted by the Department of Education, Government of TamilNadu.
Reservations are provided for BC/MBC/DNC/SC/ST etc as per the rules of the Government of TamilNadu.
Reservations are also provided for Physically handicapped / Ex-Service men / Sports persons / Other state candidates.
B.Arch Degree Admission:
Candidates having passed 10+2 Higher Secondary Examination with 50% marks as aggregate. , having Mathematics as a subject of study and obtained 80 marks out of 200 in NATA(National Aptitude Test for Architecture) test in any one of the attempt.
TNEA Admission process will commence after the counselling is over. Candidates have to report in the allotted colleges and submit the fees and complete the admission formalities.Candidates will have to verify there documents in the respective colleges and then pay the admission fees.
Contact Details:
Name
:
Sri Venkateswara College of Engineering
Location
:
Post Bag No.3
Pennalur
City
:
Sriperumbudur
State
:
Tamil Nadu
Country
:
India
Contact No
:
044 – 27152222
Contact Email
:
acm@svce.ac.in
Website
:
www.svce.ac.in
SRI VENKATESWARA COLLEGE OF ENGINEERING ADMISSION 2020
LEAVE YOUR QUESTIONS RELATED TO ADMISSION PROCEDURE , APPLICATION , ELIGIBILITY , INFRASTRUCTURE , CUT OFF WE WILL GET BACK TO YOU AS SOON AS POSSIBLE ..
SRI VENKATESWARA COLLEGE OF ENGINEERING REVIEW 2019
Campus Life -

8.2/10

Facilities -

8.0/10

Labs -

7.9/10

Faculty -

7.8/10

Hostels -

7.9/10

Exposure -

8.0/10

Placements -

8.0/10

Location Advantage -

7.5/10