Vels University Chennai Engineering Admission 2020
Established Year:1992
About Us:
Vel's University 2019 admissions are Started.Vel's Educational Trust was founded by Dr. Ishari K Ganesh in 1992 in the memory of his late father Shri.Isari Velan, a former minister in the state government of M. G. Ramachandran. University status was conferred to the Vel's Group of Institutions, by the Ministry of Human Resource Development, government of India in 2008.As a logical consequence of this, the founder Chairman Dr.Ishari K.Ganesh has become the President/Chancellor and now he leads the implementation of strategic plan that aims to shape the institute's future growth. He visualizes an University which will be globally more competitive and internationally recognized institution.The University is governed by Governing Board or otherwise known as Board of Management and this is the highest statutory body of this University.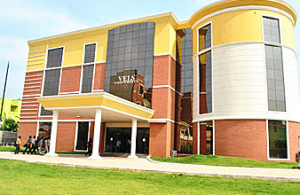 Facilities:
The School infrastructure is well furnished with all modern facilities.
 Classroom Facilities
All the classrooms of the School are well furnished with all modern facilities.
Laboratory Facilities
 All labs is equipped with latest equipment.
 Extra – Curricular Facilities
The transactions of the library are fully automated and automation covers the entire gamut of library activities such as Acquisition, Circulation with provision for renewal, reservation, serial control, OPAC (Online Public Access Catalogue), and generating various types of Reports and Statistics.
 Hostel Facilities
 There are separate hostels for men and women within the campus itself. The management fixes the room rent and establishment charges reasonably. A fully qualified Medical Attendant is available at the campus. Medical and hospital facilities are available at Pallavaram and the cost of the same would have to be met by the students. Mess and Canteen facility is available for the inmates at reasonable rates.
 NAAC Grade:
Ranking:AAA
Courses Offered:
B.E/ B.Tech:
Aeronautical Engneering
Automobile Engneering
Civil Engneering
Electrical & Electronics Engneering
Computer Science & Engneering
Engneering Science
Marine Engneering
Ocean Engg and Naval Architechture
Energy Science
Information Security and Cloud Technology
Biotechnology
M.E /M.Tech Couses:
Computer Science and Technology
Communication Systems
Construction Engneering and Management
Computer Integrated Manufacturing
Mobile Application Development
IT Infastructure Management Services
Power Electronics and Drives
Software Engneering
Multimedia Technology
Automobile Engneering
VLSI Design
Communication Systems
Applied Electronics
Embedded Systems
Computer Science Engneering
Why join Vels University
More than 93% placement record
Scholarships for meritorious students worth up to 7.5 crores
Deemed University by UGC
Partnership with many institutions for research and student exchange programs
Promotes research among faculty members, research scholars and students
Conducts seminars, conferences, workshops and symposium
Provides laptop
Placements:
VELSUNIVERSITY has been a consistent topper for several years in the list of campus placement records among private institutions in India. VELSUNIVERSITY's Placement and Training Cell has moved from strength to strength and has emerged as a favored destination for many national and international organizations to recruit the fresh talent nurtured at the University. It is proud that its graduates are highly rated by employers from industry and commerce in the private and public sectors. In the journey towards excellence, many milestones were also set by the Department of Placements in terms of "Quality and Quantity". The excellent infrastructure of the varsity facilitates different activities of placement like pre-placement talks, written tests, group discussions, and interviews as per the requirements of the organizations. The consistent placement record illustrates the commitment to the success of the University. Offering information, advice, guidance and support for job-seeking students is considered a primary responsibility at the University. The Placement and Training Centre is provided with a well-equipped conference training room and separate, well-furnished rooms for interviews and counseling. VELSUNIVERSITY has more than 93% job placement record. Students have no difficulty in finding coveted positions in reputed corporate and business houses that visit the campus every year, offering an excellent salary package on par with international standards.
Admission Procedure:
Admissions to various academic programmes are organised on all India basis
Advertisement in leading dailies
Application and Prospectus – direct sales and through website
Registration of candidates in eligible courses
Preparation of Rank list and checking eligibility (Departments concerned)
Medical Examinations (Maritime Studies)
Provisional selection based on the basis of merit (as per Central Govt. reservation norms) irrespective of region, caste, creed or sex.
Interview cards sent to applicants
Issue of admission cards and payment of fees
For the all the Professional courses admissions are based on marks scored in entrance examination and qualifying examinations.
 Entrance Exam:
Contact Details:
Velan Nagar, P.V. Vaithiyalingam Road,
Pallavaram, Chennai – 600 117, Tamil Nadu, India
Tel: + 91 – 44 – 2266 2500 / 2501
Email id: vistas@velsuniv.org
admission@velsuniv.org
Website: www.velsuniv.ac.in
VELS UNIVERSITY ENGINEERING ADMISSION 2020
Admission Procedure, Fees Structure, Eligibility, Application Process
LEAVE YOUR QUESTIONS RELATED TO ADMISSION PROCEDURE , APPLICATION , ELIGIBILITY , INFRASTRUCTURE , CUT OFF WE WILL GET BACK TO YOU AS SOON AS POSSIBLE ..
Vels University Chennai Review 2019
Campus Life -

7.5/10

Facilities -

7.6/10

Labs -

7.6/10

Faculty -

7.8/10

Hostels -

7.8/10

Exposure -

7.9/10

Placements -

7.9/10

Location Advantage -

7.5/10
Vels University Chennai Review 2019
VELSUNIVERSITY has more than 93% job placement record. Students have no difficulty in finding coveted positions in reputed corporate and business houses that visit the campus every year, offering an excellent salary package on par with international standards.