Amritha School Of Engineering Kerala Admission 2020
Amritha Kerala is a Nestled in the picturesque village of Vallikavu, across the beautiful and famed backwaters of Kerala, is Amrita Vishwa Vidyapeetham's Amritapuri campus, blending into the natural setting of the environment with its endless stretches of coconut palm groves. The Arabian Sea that borders Kerala on the west is only a few hundred meters from the campus.
Located close to the international headquarters of the Mata Amritanandamayi Math, the campus provides a learning environment that harmoniously blends science and spirituality. Students have a unique opportunity to nurture values and self-discipline. Over 90% of the students reside in hostels on campus.
Attracted by its pristine beauty and the campus's emphasis on technical excellence, students are drawn from just around the corner as well as from far across the globe. Eminent academicians and corporate professionals from share their knowledge and experiences with the students and help them apply their theoretical knowledge to real-life projects. Academic counselors mentor the students, acting as their friend, philosopher and guide.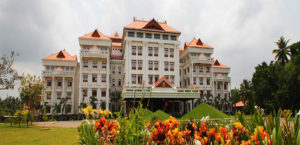 Courses Offered:
B.Tech in Computer Science Engineering, 4 Years
B.Tech in Electrical and Electronics Engineering, 4 Years
B.Tech in Mechanical Engineering, 4 Years
B.Tech in Aerospace Engineering, 4 Years
B.Tech in Chemical Engineering, 4 Years
B.Tech in Civil Engineering, 4 Years
B.Tech in Information Technology, 4 Years
B.Tech in Electronics and Instrumentation Engineering, 4 Years
Eligibility:
• The candidate must have been born on or after 1 July 1996.
• The candidate should have qualified the 10+2/equivalent examination.
• In the qualifying exam, the candidates must have secure 60% marks in Mathematics, Physics and Chemistry. Along this, individually in these subjects, the candidates must have also secured at least 55% marks.
• Candidates withholding three years Diploma in Engineering degree, as awarded by State Board of Technical Education, with 60% marks may also apply.
Facilities:
The 400 acre campus is well planned with infrastructure like academic buildings, adminstration wing, central library, hostels, guest house, staff-quarters, shopping complex, swimming pool and play grounds. The campus has built-up area of over 28 lakhs sq. feet linked by 7 km black topped roads. Eight hostels accomodated 5000 students. A swimming pool meeting Olympic standards is utlized by students, staff and others in the campus. Two power houses are installed with total generating capacity of 1660KVA to meet the shortage in power supply. Amrita also provides uninterrupted power and water supply round the clock.
Library:
Amrita Vishwa Vidyapeetham Central Library is a valuable partner in user's pursuit towards excellence in learning and research. Our value lies in the valuable information resources, services and facilities that we provide to all users. The Central library has a carpet area of 81,000 sq feet. The library has been automated by the Libsys software. We have the open access system. We have a wide range of library materials that cater to various learning resources of 58103 books, 377 Periodicals, 3000+ online e-resources like e-journals, e-books, conference proceedings, e-databases and standards, 2650 Project reports, 7086 back-volumes, 4781 CD/DVDs resources and 14 Daily News Papers. Hostel:
Separate hostel facilities are provided for girls and boys. Their stay in the hostel enables them to imbibe a holistic lifestyle with activities like yoga, sports and extra-curricular activities. There are eight hostels in the campus which accommodate above 3500 inmates. P.G students and final year U.G students are allotted single rooms. All hostels are equipped with solar water heater for hot water supply.Pure vegetarian food prepared under hygienic conditions is served in the student dining halls and the canteens from a central Kitchen. Night cafeteria is attached with all hostels. Students are not permitted to live in rented houses, lodges, either alone or in groups. Amrita attaches great importance to the nature of lifestyle in the campus. Tobacco, in any form and any other intoxicants are strictly prohibited.
Extra Facilities:
Campus-wide computing and networking infrastructure design
Hosting the campus network operations centre and network services
Administration of computer labs
Conduct of IT Training programs
Technical support to all departments on IT enabled services
Maintenance of all hardware and software systems
Maintenance of learning resource facilities
Contact Us:
Amrita Vishwa Vidyapeetham
Amritapuri Campus
Amritapuri, Clappana P. O.
Kollam – 690525
Kerala, India
Phone:+91 (476)  280 1280
+91 (476)  289 6178 (Fax)
Email:campus@am.amrita.edu
Website:http://www.amrita.edu/campus/amritapuri…