AMET College Of Engineering Chennai Admission 2020
AMET's uncompromising strides of excellence in the field of maritime education and training laced with its capacity to feed the global shipping industry with an unrivalled maritime human resource secured it the status of becoming the first university in India for maritime education, training, research and development activities on the 21st August 2007. AMET had the privilege and unprecedented status of getting unveiled as a Maritime University from the hands of the secretary general of the International Maritime Organization, Mr.Efithimios E Mitrapoulos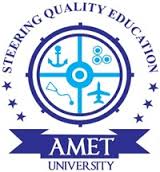 .
AMET University serves as an ocean of knowledge for over 4000 students pursuing courses ranging from diploma to Doctoral programs through 9 schools and 23 intensive research and training centers for marine and marine related activities. Equipped with an excellent infrastructure for research and development, co curricular and extracurricular activities AMET secured its compliance certificate for ISO 9001:2015 QMS standards from the prestigious and globally renowned DET NORSKE VERITAS, Norway.
Courses offered:
B.E.Marine Engineering
B.E.Naval Architecture and Offshore Engineering
B.E. Petroleum Engineering
B.E. Mechanical Engineering
B.E.Harbour & Ocean Engineering
B.E. Civil Engineering
B.E. Electrical & Electronics Engineering
B.E. Electronics and Communication Engineering
B.E. Mining Engineering
B.Tech. Food Processing Technology
B.E. GIS and Ocean Remote Sensing
B.E. Renewable Energy Engineering
Facilities:
The classrooms/ lecture halls in the college are fully furnished.
The college has a state-of-art computer laboratory equipped with 60 P-IV nodes on LAN system with free internet access through 512 Kbps broadband facility.
Regular personality development workshops. Regular seminars, workshops and conferences.
College has a well stocked library.
The institute provides separate hostel facilities for boys and girls.
Contact Us:
135, East Coast Road,
Kanathur – 603112, chennai,tamilnadu
Tel : 32577030 / 32577002
Fax : 91 – 44 – 27472804 / 2747 2904
Email: office@ametuniv.ac.in
Website: www.ametuniv.ac.in…