Hosur Institute of Technology and Science Admission 2020
Established Year:2012
About Us:
The College is a community in which a large number of individuals live closely together. Hence, It becomes essential that all members have due regard for right of others. The College guidelines & regulations are intended to help, preserve a happy and harmonious atmosphere for all those living and working together in the college premises. Students are required to observe discipline and follow norms in every aspect of the institution both academic and administrative. Good conduct and academic excellence are the watchwords of the institution. To achieve the Institutions mission of educating students, we first need to create a positive learning environment. It is our responsibility to ensure that our students know What is expected of them, and, equally become our duty, to protect them and ourselves from behaviors that disrupt the integrity of that environment.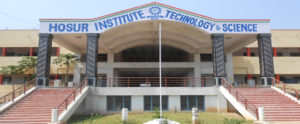 The guidelines and regulations converging students conduct and discipline are framed under the philosophy highlighted in the above preamble. They are subjected to modification from time to time. In case of clarification, interpretation by the college authorities is final. Infraction of guidelines and regulations by students leads to disciplinary action by the authorities.
The college expects the students to do serious and sustained work and to make use of the faculties offered for their all round development. The college expects parents or guardians to co-operate with the college authorities in the education of their children. They should follow the students progress in studies and his / her general conduct. The parents should meet the lecturers, Professor, HOD & Principal periodically or whenever called for.
Facilities:
Library
Laboratories
Class Rooms
Internet
Hostel
Medical Facility
Sports
Placement Cell

Courses Offered:
B.E. Civil Engineering
B.E. Computer Science and Engineering
B.E. Electrical and Electronics Engineering
B.E. Electronics and Communication Engineering
B.E. Mechanical Engineering
Placements:
The range of careers open to the graduates is an ever widening one, with employers seeking capable, articulate and well motivated graduates who can make an effective contribution to their organization. The Training and Placement Cell helps all the students by providing a wide range of career- related events. Students are encouraged to use the service from early in their course of study, that will match their skills and aspirations.
The college is committed in preparing students for an emerging and changing business scenario. Students are provided with experience that will not only equip them with the knowledge, skills and abilities for a future career, but also a practical professional experience through the in-plant training, workshop and various seminars.
In this era of technological advancement, the education a student receives must be focused towards the needs and requirement of the Industry. To achieve this, our College has become a member of the Confederation of Indian Industry. Southern Chapter and Center for University Industry Collaboration, Anna University. The center helps us to contact various organizations both public and private sector and promotes Industry – institute interaction.
Admission Procedure:
Admission to all undergraduate courses ie. Bachelors in Engineering (B.E.) are carried out through the single window system of the Anna University. Students can choose the courses based upon the state-wise rank calculated by their marks in Higher Secondary Examination conducted by the Department of Education, Government of TamilNadu.
Reservations are provided for BC/MBC/DNC/SC/ST etc as per the rules of the Government of TamilNadu.
Reservations are also provided for Physically handicapped / Ex-Service men / Sports persons / Other state candidates.
B.Arch Degree Admission:
Candidates having passed 10+2 Higher Secondary Examination with 50% marks as aggregate. , having Mathematics as a subject of study and obtained 80 marks out of 200 in NATA(National Aptitude Test for Architecture) test in any one of the attempt.
TNEA Admission process will commence after the counselling is over. Candidates have to report in the allotted colleges and submit the fees and complete the admission formalities.Candidates will have to verify there documents in the respective colleges and then pay the admission fees.
Tamil Nadu Engineering Admissions (TNEA) was conducted by Anna University previously. But from the few years there will be no entrance exam for admission in various engineering colleges. The candidates will get the admission on the basis of their class XII percentage. The candidates who are meeting the eligibility criteria will be eligible for the undergraduate courses offered by the various engineering colleges of Tamil Nadu. In this article we are providing the information about TNEA 2020.
Eligibility Criteria:
Candidates have to check their eligibility first and then proceed to fill the application form. The TNEA eligibility criteria are given here:
General Eligibility:
Candidates, those belong to the Tamil Nadu state & complete their 10+2 education from the state is eligible.
Candidates, those don't belong to the Tamil Nadu state, but pass their 10+2 education from the state can apply.
Native candidate of Tamil Nadu who passes their 10+2 examination from another state can also apply but they have to submit a valid nativity certificate.
Children of central government employees can also apply for the admission process. They have to show their parents/guardians native certificates who have been serving in Tamil Nadu for last five years continuously.
Daughters & Son of All India Service Tamil Nadu Cadre Officers can also apply for this exam.
Age Criteria:
Age Limit:Candidate's age should be not less than 18 years & not exceed 25 years.
Relaxation:There is an age relaxation for the reserved category as per the university rules.
Qualification Criteria:
Qualifying Exam: Candidates have to complete their 10+2 or equivalent examination with PCM as a compulsory subject from a recognized board.
Minimum Marks: Candidates have to score 50% marks (General Category), 45% marks (OBC Category) & 40% marks (MBC, DNC, SC, ST & SCA Category).
Important Dates:
Here, we are providing a tentative schedule of TNEA 2020 admission:
| | |
| --- | --- |
| Events | Dates (Tentative) |
| Notification Release Date | In the month of April 2020 |
| Application form Availability Date | 3rd week of April 2020 |
| Form Filling Last Date | Last week of May 2020 |
| Merit/Rank List Publication Date | 4th week of June 2020 |
| Counselling Started | 4th week of June 2020 |
How to Apply:
The application form of TNEA 2020 will be available only in online mode. After filling in the online registration of TNEA application form 2020, the candidate will have to send printout of the completed online application in person or by post to:
Secretary, TNEA, Anna University,
Chennai – 600 025
The application form must be accompanied by photocopies of relevant certificates and photographs and must reach the above mentioned address on or before the last date. The registration fee must be paid only online. Candidates must pay the registration fee as per the category they belong to, or else their applications will be rejected.
When filling the application form of TNEA 2019, care must be taken to enter only genuine information. The TNEA application form 2019 will include fields like education details and personal details. Also, when uploading any documents, the candidate must conform to the prescribed format.
TNEA Merit List:
The admission into engineering colleges in Tamil Nadu will be based on class 12th Percentage. Candidates, those scores good marks in 10+2 examination, the priority will be given to them. On the basis of 12th percentage, the authority will release rank list. The TNEA Results/rank list will be published in the 4th week of June 2020. Candidates will get admission in the engineering Institution on the basis of the merit list.
TNEA 2020 Counselling:
The counselling of TNEA 2020 will be carried out according to merit and category-wise reservation of seats. Higher ranked candidates will be called for counselling of TNEA 2020 first and have more options to choose from. Candidates can pick their choices of branches and colleges from the available options at the time of counselling. Counselling will be held in offline mode and the candidate has to be present in person. If the candidate is unable to attend counselling for some unavoidable reasons, the parent of the candidate is allowed to attend counselling on behalf of the candidate.
Candidates who get shortlisted for counselling of TNEA 2020 have to pay the counselling fee either through Cash or DD. On the day of counselling, the candidate must also bring along originals of all relevant documents.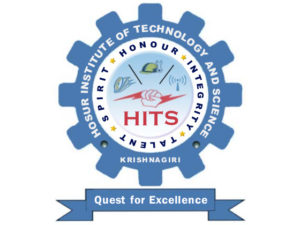 Contact Details:
Kalingavaram Road,Errandappalli Village,
Beerpalli PO,Ramapuram Via,, Krishnagiri,
Tamil Nadu 635115
Contact : 07845390170
E-mail : principal@hits.edu.in
Website: http://www.hits.edu.in
Hosur Institute of Technology and Science Admission 2020
LEAVE YOUR QUESTIONS RELATED TO ADMISSION PROCEDURE , APPLICATION , ELIGIBILITY , INFRASTRUCTURE , CUT OFF WE WILL GET BACK TO YOU AS SOON AS POSSIBLE ….
Hosur Institute of Technology and Science Review 2018
Campus Life -

7.2/10

Facilities -

7.4/10

Labs -

7.4/10

Faculty -

7.5/10

Hostels -

7.2/10

Exposure -

7.8/10

Placements -

7.9/10

Location Advantage -

7.4/10
Hosur Institute of Technology and Science Review 2018
Hosur Institute of Technology and Science is situated in Krishnagiri district of Tamil Nadu. It is established by the Hosur Peoples Educational Trust. The college is approved by All India Council for Technical Education (AICTE), New Delhi and it is affiliated to Anna University, Chennai. The college offers various courses to its students like Electrical, Electronics, Civil, Mechanical, Computer Science, etc., Facilities like Hostel, Library are provided to the students.