Sathyabama University Dental College & Hospital Admission 2018
Established Year: 2001
About Us:
Admissions for Sathyabama University 2018 are open for students who are aspiring to become the future professionalist. Sathyabama university is an university which will surely lead students to success. Satyabama is an institution where knowledge of various types such as engineering, arts, science and technology are acquired by students.To help students to gain academic excellence, the right place to make them join in Satyabama University Admissions 2016 now.Choice of the right course, right College or university at affordable cost to get the best education is very crucial for a student.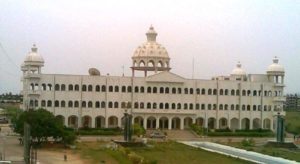 Satyabama University Admissions 2018 for Dental (BDS).Admissions are open in Sathyabama University for year 2017 will be through entrance exam.
SATHYABAMA UNIVERSITY has excellent Infrastructure:
General amenities,
Library,
Modern laboratories,
Career guidance programme,
Workshops
Hostel facilities
Transportation
Courses Offered:
Admission Procedure:
Sathyabama  University has issued a notification for admission to first year MBBS and BDS for the academic year 2017-2018.The admissions will be done on the basis of the marks obtained in the NEET 2018.
Students should have completed their 12th with major as Biology, physics and chemistry. The admissions are based on the total percentage score of the students and the cut off mark.Interested students, can download the application from the college and fill the same. Submit or send it with the Demand Draft for the informed sum to the college. Those students who are selected will be intimated by the college personnel for admission formalities.
Medical aspirants, do not miss the opportunity to build your strongest medical career with India's best college. Start your application process right away and make sure your dreams turn true.
Note: NEET must be Qualified 
Contact Details:
University Administrative Office:
Jeppiaar Nagar, Rajiv Gandhi  Road,
Chennai – 600 119.
Phone: 044 – 2450 3150 / 51 / 52 / 54 / 55
Fax: 044 – 2450 2344
Chancellor – chancellor@sathyabamauniversity.ac.in
Directors – directors@sathyabamauniversity.ac.in
Sathyabama University Dental College & Hospital Admission 2018
BDS Admission Chennai 2018
We provide career counseling, admission guidance and direct admission in all Indian university admissions in any branch, especially -we provide the most appropriate guidance regarding very best private unaided Medical, engineering , BDS colleges in recognized universities.
Please contact us and feel free to take our consultation.
Book your seat in advance at very modest and genuine rate. For admission procedure & fee structure contact us asap.
All bookings are based on first come first serve basis.
Lowest capitation assured
Regard's
V.Bharath
9700019482.
…