Chettinad Dental College and Research Institute Admission 2018
Established Year: 2007
About Us:
Chettinad dental college and research institute 2017 admission started. Chettinad dental college is a  global center of excellence in learning, teaching, research, health care and service to the community has been established in the year 2007 by  the visionary organization, Raja Sir Muthaiah Chettiar Charitable trust. Our institute is an undergraduate college with 100 BDS seats, affiliated to Tamil Nadu Dr.MGR medical university, Chennai and recognized by the Dental council of India.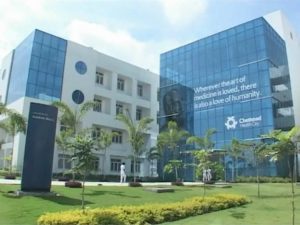 The Chettinad Dental College and Research Institute is located in the Chettinad Health City in Kelambakkam on the Old Mahabalipuram road, otherwise known as Rajiv Gandhi Salai or the IT Highway. This stretch of road from Madhya Kailash temple on Sardar Patel road to Chettinad Health City is a 20km long toll road, with numerous hubs of the IT industry and several multinational companies located along it. It is one of the fastest growing roads in Asia, with at least 50 educational institutions and many residential complexes in the vicinity. The area between this OMR Road and GST Road is the area marked for the future expansion of Chennai.
Facilities:
Hostel
Laboratory
Teaching and evaluation methods
Cultural and sports
Lecture halls
NAAC Grade : A
Courses:
BDS
Admission procedure:
Students should have completed their 12th with major as Biology, physics and chemistry. The admissions are based on the total percentage score of the students and the cut off mark.Interested students, can download the application from the college and fill the same. Submit or send it with the Demand Draft for the informed sum to the college. Those students who are selected will be intimated by the college personnel for admission formalities.
Medical aspirants, do not miss the opportunity to build your strongest medical career with India's best college. Start your application process right away and make sure your dreams turn true.
Note: NEET must be Qualified
Contact Details:
Chettinad Dental College & Research Institute,
Rajiv Gandhi Salai,
Kelambakkam,
Kancheepuram Dist,
Tamil Nadu – 603 103
India.
T +91 44 4741 3350 / 4741 3351 / 4741 3352
F +91 44 4741 3343
Web & Mail ID:
dentalpricipal@gmail.com
dentalprincipal@chettinadhealthcity.com 
www.chettinadhealthcity.com
Chettinad Dental College and Research Institute Admisison 2018
WE PROVIDE CAREER COUNSELLING, ADMISSION GUIDANCE AND DIRECT ADMISSION IN ALL INDIAN UNIVERSITY ADMISSIONS IN ANY BRANCH, ESPECIALLY WE PROVIDE THE MOST APPROPRIATE GUIDANCE REGARDING VERY BEST PRIVATE UNAIDED MEDICAL, ENGINEERING , BDS COLLEGES IN RECOGNISED UNIVERSITIES.
PLEASE CONTACT US AND FEEL FREE TO TAKE OUR CONSULTATION.
BOOK YOUR SEAT IN ADVANCE AT VERY MODEST AND GENUINE RATE. FOR ADMISSION PROCEDURE & FEE STRUCTURE CONTACT US ASAP.
ALL BOOKINGS ARE BASED ON FIRST COME FIRST SERVE BASIS.
LOWEST CAPITATION ASSURED
Chettinad Dental College and Research Institute Admisison 2017
MBBS ADMISSIONS IN CHENNAI 2017  REGISTER NOW !
Admission Procedure, Fees Structure, Eligibility, Application Process
CONTACT 09700019482
LEAVE YOUR QUESTIONS RELATED TO ADMISSION PROCEDURE , APPLICATION , ELIGIBILITY , INFRASTRUCTURE , CUT OFF WE WILL GET BACK TO YOU AS SOON AS POSSIBLE ..
…