CHETTINAD MEDICAL COLLEGE  Mbbs Admissions 2019 Fees Structure
Chettinad Medical College Mbbs Admissions 2019 Chennai Started. Eligible Students Can book Seat in Advance Chettinad Medical College Mbbs Fees Structure 2019
Established Year:2006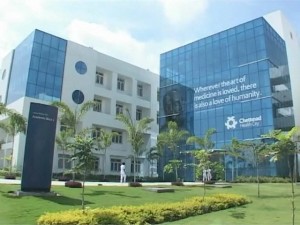 About Us:
Chettinad Medical College is situated in Kanchipuram of Tamilnadu state (Province) in India. Kanchipuram was established in 2006 and affiliated to Dr.M.G.R. Educational and Research Institute. Chettinad Medical College Hospital and Research Institute have the hostel facilities and all other infrastructures. Medical Council of India, has given the approval to Chettinad Hospital and Research Institute, to conduct the Medical courses. Chettinad Medical College Hospital and Research Institute is the one of the top college in Tamilnadu. Chettinad Hospital and Research Institute provides good faculties and the also provides good infrastructural facilities.
Facilities:
SKILLS LAB
Students get an opportunity to practice in real time on dummies that function like normal human patients. This gives them the confidence and skills they need for patient interactions. There is a variety of simulators available: from delivery of a child to asthma simulator, ECG tube, etc. This is a self-training method that will be supervised by specialized doctors
LECTURE HALLS
State-of-the-art air-conditioned Lecture Halls with multimedia facilities makes the lectures interesting. With LAN and internet at the desk of every student, lectures become more interactive.
LABORATORIES
Our lectures are well supported by hands-on experience in the well-equipped laboratories. Each laboratory can accommodate over 90 students. Every lab has a demo room for the students to receive their instructions and conduct small group discussions.
MUSEUM & LIBRARY
An organized museum and well-stocked library make learning interesting. The library is well stocked with over 9000 books and over 54 journals of which 11 are international and 43 are national journals. Library also subscribes to online periodicals. The Digital library with over 35 computers and high-speed internet facility and audio visual aids is popular. Apart from these facilities, the library is maintained on bar coding and also has reprographic facility which can take 14 pages/min.
RESEARCH LABS
To encourage research for both students and faculty we have well-equipped research labs in every department as well as the Central Research Lab. Each department also has seminar rooms for faculty seminars & journal clubs
TEACHING AND EVALUATION METHODS
The dedicated faculty members of CHC use various modalities of teaching and evaluation to support their didactic lectures; like seminars, small group discussions, quizzes, participating in outreach activities etc. Various evaluation protocols are used. Apart from the routine internal assessments and model exams, they also have objective and online exams.
FACULTY
The faculty is the main asset of Chettinad Academy of Research and Education. They are drawn from all over India and have the highest qualifications in their fields.
STUDENT AMENITIES
Chettinad Health City is a self-contained township. Students have a range of amenities to help them develop, including hostel facilities with nutritious food and connectivity in every room, numerous sports and recreational facilities, transport from the city, and access to Banking facilities, shopping, laundry services and a Travel Desk on campus.
Courses Offered:
MBBS
B.Sc. Allied Health Sciences (3 Years + 1 Year Internship)
B.Sc. Medical Bionanotechnology (3 Years)
B.Sc. Medical Biotechnology (3 Years)
B.Sc. Medical Genetics (3 Years)
Medical Post Graduate Courses – M.D. Pre and Para Clinical (3 years)
Medical Post Graduate Courses –
M.D./M.S. Clinical Courses (3 years)
M.S. (Obstetrics and Gynecology)
M.D. (Dermatology, Venerology and Leprosy)
Postgraduate courses (2 Years):
M.Sc. Tissue Engineering & Regenerative Medicine
M.Sc. Medical Genetics & Molecular Diagnostics
M.Sc. Medical Bionanotechnology
M.Sc. Medical Biotechnology
M.Sc. Clinical Research & Experimental Medicine
M.Sc. Marine Pharmacology
M.Sc. Human Nutrition
M.Sc. Occupational Health & Industrial Safety
M.Sc. Health & Yoga
M.Sc. Computational Biology
M.Sc. Bioinformatics
M.Sc. Counseling Psychology
M.ScPharmaceutical Chemistry
D.M. (Cardiology)
D.M. (Neurology)
D.M. (Neonatology)
M.Ch. (Cardio Vascular & Thoracic Surgery)
M.Ch. (Neuro Surgery)
M.Ch. (Urology)
D.M. (Medical Gastroenterology)
M.Sc – Allied Health Sciences (2 Years):
Echocardiography & Cardiovascular Imaging Technology
Radiology and Imaging Science Technology
Postgraduate Courses in Nursing (2 Years):
M.Sc. Medical Surgical Nursing (Cardio Vascular and Thoracic Nursing)
III. POSTGRADUATE DIPLOMA COURSES
NURSING COURSES:
B.Sc. Nursing
Post Basic B.Sc Nursing
Why join Chettinad Medical College Hospital & Research Institute
Global center for excellence in learning, teaching, research, health care service
Deemed to be University
Well-designed multidisciplinary courses
Highly qualified faculty
NAAC Accredited
Chettinad Medical College Admission Procedure:
Note: NEET Must be Qualified
Contact Details:
Chettinad Medical College Hospital & Research Institute Kanchipuram
Address: Old Mahabalipuram Road Padur Village, Kanchipuram-603103.
Phone: 044-67456900
Fax:044-27475970
Email: mail@chettinadhospitals.com
Website: chettinadhealthcity.com/university/medical_courses.htm
CHETTINAD MEDICAL COLLEGE MBBS ADMISSION 2019
MBBS ADMISSIONS IN CHENNAI 2019 REGISTER NOW
Admission Procedure, Fees Structure, Eligibility, Application Process

CHETTINAD MEDICAL COLLEGE MBBS ADMISSIONS 2019 FEES STRUCTURE
WE PROVIDE CAREER COUNSELLING, ADMISSION GUIDANCE AND DIRECT ADMISSION IN ALL INDIAN UNIVERSITY ADMISSIONS IN ANY BRANCH, ESPECIALLY WE PROVIDE THE MOST APPROPRIATE GUIDANCE REGARDING VERY BEST PRIVATE UNAIDED MEDICAL, ENGINEERING, BDS COLLEGES IN RECOGNISED UNIVERSITIES.
PLEASE CONTACT US AND FEEL FREE TO TAKE OUR CONSULTATION.
BOOK YOUR SEAT IN ADVANCE AT VERY MODEST AND GENUINE RATE. FOR ADMISSION PROCEDURE & FEE STRUCTURE CONTACT US ASAP.
ALL BOOKINGS ARE BASED ON FIRST COME FIRST SERVE BASIS.
LOWEST CAPITATION ASSURED
Chettinad Medical College Hospital and Research Institute Mbbs Admissions 2019 Fees Structure
 LEAVE YOUR QUESTIONS RELATED TO ADMISSION PROCEDURE, APPLICATION, ELIGIBILITY, INFRASTRUCTURE, CUT OFF WE WILL GET BACK TO YOU AS SOON AS POSSIBLE ..
…